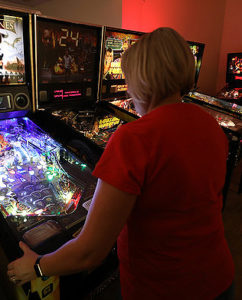 COME AND PLAY SOME PINBALL
AT PINBALL REPUBLIC LONDON
Pinball Republic London is run entirely by volunteers and every play session is hosted by one of the members.
We are open most Thursday evenings and Saturday & Sunday daytimes but exact days and times may vary depending on availability of the host and whether we are supporting another major pinball event taking place at the same time.
So, always check the calendar below for the latest opening days and times. If the host is delayed or regrettably has to cancel then the opening information will be updated here as quickly as possible.
Entry is free for members and all machines are on free play.
Guests pay £15 per day for adult entry, £5 for kids. No pre-booking is required – just turn up and start playing.
If you have any questions, please get in touch:
Pinball Republic London is only open on days shown where it says OPEN.
The opening hours for that day and the name of the host will then be shown.
We look forward to welcoming you.